Slovenska verzia

Fall in North Cascades.
North Cascades National Park occupies a region in the north of state Washington, close to the Canadian border. I have visited the park in begin of October and I was surprised by a rich variety of colors in natural scenery at fall. I was lucky; the weather was in my favor (state Washington is famed by rainy more than by sunny days). So I could see really gorgeous flood of colors, from clear green through glaring orange into deep red; and azure sky and shiny glacier fields in contrast. My photos perhaps look as over saturated, with violent colors, on the first sight. But I am happy that I was able to capture pictures of the nature in fall using the same colors, as I could see in real.
Most of the pictures were shot in region Mt. Baker - Snoqualmie National Forest on the northwest from the national park. Two major mountains are there - Mt. Baker, covered for the most of year by ice and snow; and Mt. Shuksan, whose photograph from the Picture Lake forms probably the most well known natural picture in state Washington.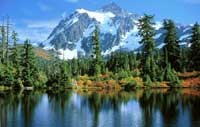 All photos copyrightę 2001 Juraj Blaskovic, All rights reserved. e-mail