Slovenska verzia

Desert in blossom.
Big Bend National Park is located in southwest Texas on the Mexican border. The border is formed by a bend in the Rio Grande river. Park occupies a region of about 1250 sq miles. Most of the park is covered by a vast hostile desert. Maybe not as hostile as Sahara, with sand dunes (but you can find them in Big Bend too), but covered by rocks, gravel, sand, where for the most of the year grow only cacti and similar succulent plants.
This year the desert came into blossom. After extremely wet fall and winter plants suddenly awoke. And have created so beautiful and colossal garden that even all gardeners on the world would have problem to maintain it.
On the following pictures I try to bring at least a piece of this wonder.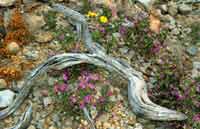 All photos copyrightę 2001 Juraj Blaskovic, All rights reserved. e-mail

And some old photos.